Among Kate's graduation presents is a ticket to the Rolling Stones show coming up in July here in Detroit, at the baseball stadium during the All-Star break. No, I won't be going, too — I already saw the Stones, coincidentally in the first days after my own high-school graduation 40 damn years ago. I recently ran across a photo of the event on The Plain Dealer website. I'm stealing the photo with great guilt, because I couldn't figure out how to link to just the picture, and I wanted the impact of seeing it right here on this page in all its gray monumentality:
Cleveland Municipal Stadium, June 14, 1975. The "Tour of the Americas," a fairly snooty name for a Stones show, but if you were facing a crowd like that night after night, you might think you were some sort of Lord McDonowrong, too. Anyway, I don't remember much other than that the crowd was so huge and thirsty and toilet-flushy that there was zero water pressure in the fountains. This being before everyone went around with huge water bottles all the time, I was feeling woozy in the heat in no time at all. I went to the first aid area, took a seat and said, "If I don't get some water, I'm going to need some first aid." They gave it to me, took my blood pressure, had me sit a bit and drink a little more, then released me back to my seat. I don't recall much of the show, except for "Fingerprint File," sung by a tiny figure way off in the distance who might have been Mick Jagger, but in those pre-Jumbotron days, who's to say?
But I left with what I came for — the ability to say I'd seen the Stones. If you'd told me that night that in 21 more years I'd give birth to a daughter, and that she too would see the Stones in the first days following her high-school graduation, I'd never, ever have believed you. But life has symmetry that way.
Man, look at that crowd. Insane.
Kirk's wife once told me an incredible story about crowds at Cleveland rock shows. It has a terrifying setup, which I'll try not to gloss over too much, but basically: She and a friend were kidnapped, more or less, one night in Cleveland. I forget whether they invited two strangers into their car or they forced their way in, but basically, they thought they were doing two guys with a broken-down car a favor and almost immediately realized they'd made a terrible mistake, as the guys either showed or said they had a gun and directed them on a long, terrifying route through some very dodgy neighborhoods. They didn't know if they were going to be raped, murdered or both, and it went on for some time. Then, abruptly, they were both put out of the car and the two guys sped away. It was very upsetting, of course, and the police came, there was an investigation, but nothing came of it. Almost a year later, she was at a big show like this, in a crowd that was being herded like cattle toward a gate, with another crowd coming the opposite way for some reason, and in this sea of faces her eyes lit on one and it's THE GUY. He looked right at her, and she knew he knew who she was, but before she could even open her mouth, the crowd swept them both in opposite directions and she never saw him again. Freaky.
I've also been neglecting my Saturday Morning Market posts, not because I'm not spending time there, but because WordPress' mobile app will no longer let me post custom photo sizes, and the posts were getting all fubar with huge pictures, and I just didn't care enough to do them after I got home. But I really want to show you this bike: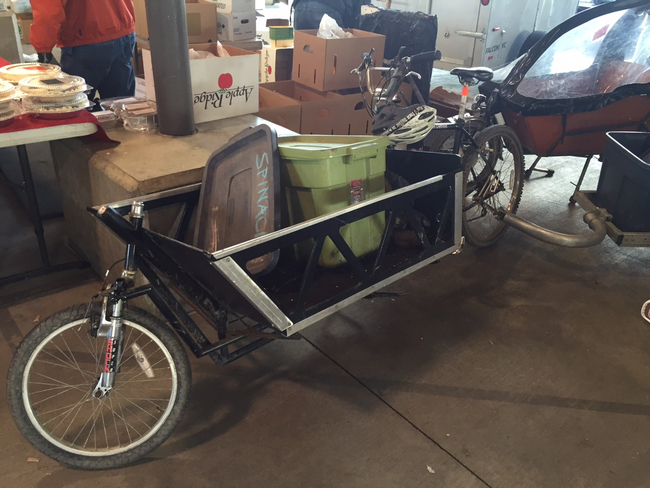 The guy who owns it is one of those dyed-in-the-wool, no-bullshit, back-to-the-landers-in-the-middle-of-Detroit folks. He and his wife sell all year, specializing in sprouts. They don't own a car, but they own this bike-truck thing. I think he said it was custom-made for them, or maybe not — anyway, it's European. The middle section is where the cargo goes. The kids — they have two — have their own trailer and they may even have more add-ons. I wonder how that thing is geared.
Finally, here's a story to turn your head inside out, about a 78-year-old man on trial for having sex with his Alzheimer's-afflicted wife in her nursing home. Just when you think you've heard every detail you didn't want to think about, about pulling those nursing-home curtains around beds for privacy, etc., it gets into some interesting discussions about consent, about how we'll live our last years, and of course, yet another area in which the baby boomers are changing things.
Another late night last night. Man, I gotta stop this stuff. Happy Thursday — the weekend draws nigh.