It's Labor Day, the traditional, not technical, end of summer. I feel like I should write something, but I already wrote a column today (not about Labor Day) and am feeling a little played out. So I went through my photos, and decided it wasn't a bad season, not at all. Here's a selection of these warm summer days, Memorial to Labor. I hope your season was as picturesque.
It started with a horse show, something I haven't been to in ages. I was only a spectator, but it was interesting to see how they're doing things these days. (Spoiler: All that's really changed are the helmets. And everything is way more expensive, not that it was ever cheap.) This is a guy I used to take boxing classes with, riding in the schooling jumpers class:
Flashback to my June driveway dinner party. Lots of work, but lots of reward:
Outdoor Friday-night spritzes with Dustin at a new spot in Detroit. Typical post-industrial setting, typical curated wall art:
In early July, I went with my colleague Violet to what was billed as "the first political speech" by James Craig, who retired as chief of the Detroit P.D. to run for governor (although he hasn't announced yet). Here he is demonstrating his support for the second amendment:
The story of the summer was the rain. Torrents of it, storm after storm, causing much misery and the usual idiot chin-scratching about what, huh, what could be causing these sorts of unprecedented rain events. This happened at least half a dozen times in two months or so:
This was the encore of Shadow Show's first post-pandemic show. They ran offstage, quickly changed into (p)leather and came back to cover "Sharivari," considered the first Detroit techno record, with a guest guitarist. A really fun time, and a great one for a bassist to show off:
Of course there was some sailing: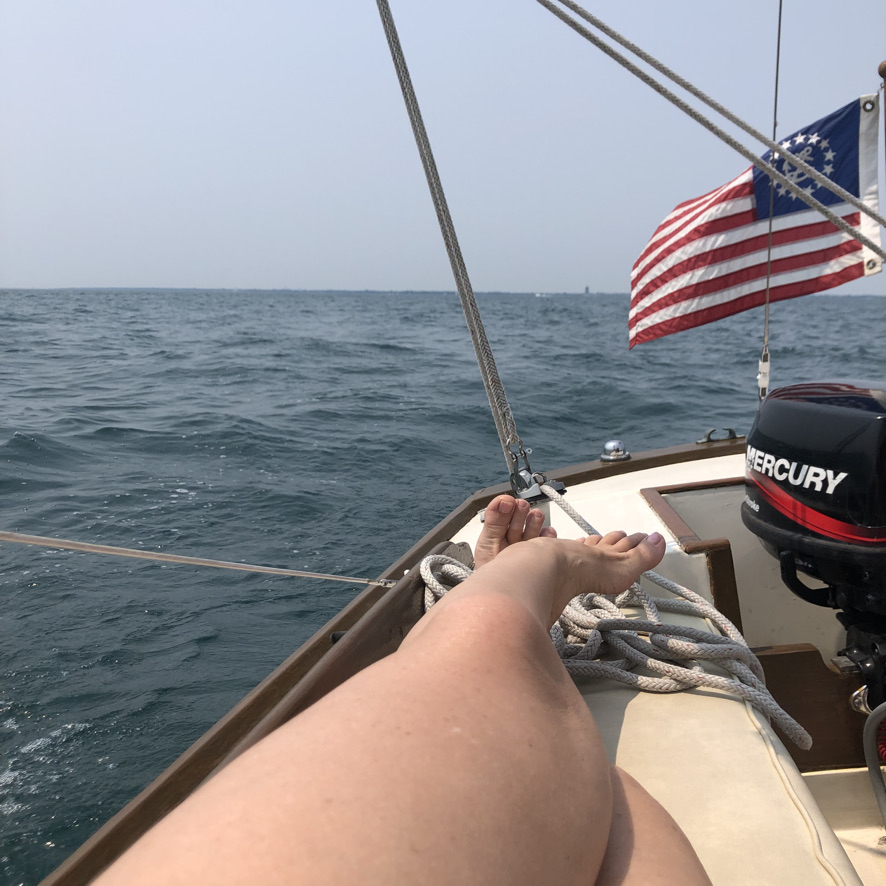 Wildfires out west, red sunrises here:
A late graduation party, poolside:
On to August, and a primary election. I worked it again. Criminally low turnout, but we left no ballot behind:
A rooftop Friday cocktail hour, and we lit the shabbos candles for Danny Fenster, now imprisoned in Myanmar for more than 100 days. If you know anyone on the Senate Foreign Relations Committee, a letter of support would be appreciated:
A pop-up show by Griz, an EDM artist who was launching his new cannabis brand. People who don't live in states with legal weed are often amazed by how, shall we say, robust the market is here. Still, this was too many people too close together, and hardly anyone was masked. (It was brutally hot.) I got a Covid test five days later, just to be safe. (Negative.)
And finally we get to Labor Day weekend. The girls had a show at the Hamtramck festival, and I wandered off down Joseph Campau Street to get away from the crowd. Hamtramck was for years primarily a Polish community, and still is, in large part, although it's now more diverse than the United Nations. This pocket park was built to honor Pope John Paul II:
May the Pope, wherever he is now, watch over our autumn, as we head into it.