One question: If the digital new media is supposed to be exploding all the old rules and not following any of the new ones, why do so many of its writers sound like Perry White dictating to the cigar-chomping rewrite man?
In Touch can exclusively reveal what actually happened after Britney Spears checked into LA's Cedars-Sinai Medical Center last week.
A source exclusively tells PageSix.com that Brit's dad, Jamie, is the one who sounded the emergency on the red Phil phone once he learned his daughter was checking out early.
TMZ has learned Eminem was rushed to the hospital over the holidays.
OK, two out of three of those are old media with websites. But TMZ is new-media all the way, and they do it too. I guess it's all Drudge's doing, with his stupid fedora and Walter Lippman affectations. It's amusing how well that old rat-a-tat-tat passive-voice stuff holds up, isn't it? And how ironic that it's used so often on gossip sites, where the news couldn't be less consequential. By the way, is anyone ever not "rushed" to the hospital? "Eminem was driven to the hospital at a leisurely pace, observing all legal speed limits." Don't read that much, do you?
Enough woolgathering. I'm late getting started today because I had my tit in a wringer. Literally, more or less — mammogram time. You have to schedule those so far in advance it's impossible to coordinate it with one's less-ouchy days on the calendar, but I was as stoic as I could be. The rule of mammography is squeeze, squeeze, squeeze a little more and then one last big squeeze until the patient yelps, and then you take the picture. The technician gave me a little lecture on the importance of maximum compression (not while I was compressed, thankfully) — the flatter you can make everything, the better "doctor" is able to see what's going on. Fair enough.
Because this was a digital picture, I was able to look at them immediately afterward. I once had a hairdresser (straight, male) whose wife called her breasts "the hanging bags of fat," a term that's stuck with me, and I think about it whenever mammography time rolls around, seeing them squashed under my chin and doing my deep breathing to keep from yelling.
Today I thought about a writing class I took once, led by a real blowhard, who was trying to impress upon us the importance of le mot juste, just the right word. He was doing it with a long story from Arthur Koestler's novel "Darkness at Noon," about two men being held in the same prison. They were on opposite sides of a wall, and couldn't see or hear one another, but over time they started communicating using a tap code. One man is describing an old lover's "breasts like champagne glasses." The way the blowhard told this story was excruciating, going on and on about the tap code and how agonizingly slow it was as a means of communication, kind of like this story, and then he gets to the punchline, "breasts like champagne glasses." And he looks around the room and beams, because isn't that just the most incredible phrase to describe a pair of perfect breasts?
I sat there blankly, picturing the old granny in those Playboy cartoons. Because, to me, a champagne glass looks like this: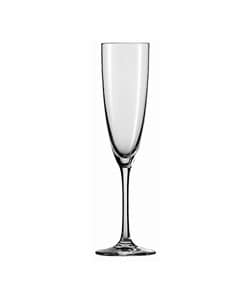 About two seconds later it occurred to me he was thinking of this:
Which just goes to show le mot juste is never entirely juste. But the granny is probably more comfortable during her mammograms than the saucer-boobed girl.
Have I lowered the tone? Good. Now to the bloggage:
New Hampshire proves you can never count a Clinton out. Discuss.
Liberals are sabotaging RedState's website. (I think.) Jon Carroll explains.
And now, I'm going to write something someone might actually pay me for. Carry on.