Eric Zorn takes note of a Republican women's club in California that used one of the seemingly scores of racist Obama caricatures in a newsletter. This one, to be specific:
Anyone care to guess what their reaction was when called on it? Anyone? Yes, you there in the back — Coozledad, is it?
"What is, 'Who, me? Racist?'"
Correct.
Anyway, I've seen quite a few of these in my perambulations around the web. There's this one:
And this one:
(Image removed at photographer's request, who directs us to the original, unaltered picture, before it was co-opted by racists.)
From an Israeli newspaper:
(He's painting the White House black, get it? Get it?)
Of course, what self-respecting campaign featuring a black candidate would it be without a huge-Afro image?
He's a furriner, you know: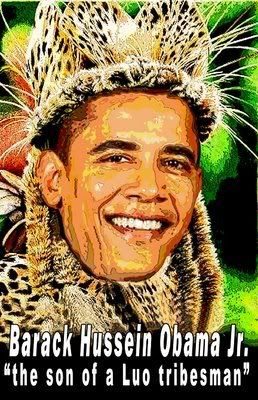 And a rapper:
And I could go on. I won't.
I found these images in about 15 minutes of Googling ("racist obama" in Google Images was my best bet), but I see them all the time, sometimes with a comment that the poster knows it's offensive, but it was "just too funny" not to pass along. I really have to wonder about people who can insulate themselves from reality to this degree. This explains, I guess, why so many of these pictures turn up in places where you'd think someone would know better — GOP newsletters, for example.
Today's question for the room: Any thoughts? I know this welcomes a whole lot of back-patting and other head-nodding, but I'm really looking for a little cogitation here.
In other bloggage at this hour, the inevitable hits local government: A decrease in tax revenues, thanks to foreclosures, means local municipalities must cut services. Here it means layoff notices for sheriff's deputies. Meanwhile, I heard through the local gossip grapevine that the contractor who has the dead ash-tree removal task from one of our local municipalities is very careful to take the trees down without major damage to their meaty bits, which he cuts into 12-foot sections and promptly sells to a flooring manufacturer nearby. Win-win! Can we put this guy in charge of something involving taxpayer money where we might get a little back?
"W." has been getting generally bleh reviews. Trust Roger Ebert to swim against the tide. Four stars! Get outta town.
OK. Off to work and time to get into my zombie head. Braaaainns… braaainnns.