I stumbled into watching this show on Apple+. "Physical." It stars Rose Byrne and it's set in the '80s, about a woman who finds her calling in teaching aerobics. (Remember aerobics, ladies? Grapevine left, grapevine right, all that? Ah, memories.) The main action is set in 1986 and 1981, and I keep spotting what I'm calling linguistic anachronisms, i.e. people using words and phrases that they didn't use in 1981. Hey, I was there. I know.
Such as? The main character says to herself, "I will eat clean," an expression that is very, very recent, not 40 years old. Her husband, a professor at a crappy college, has one of his students as the last guest at a party and tells his wife, privately, "I think she wants to hook up with us," another wrong-o. A 1981 man would have used the term "menage a trois," the term of the era; hookup is a hip-hop era term. Some surfers call her a "bee-yotch," another nope from me. And one more: "Impactful," which is so recent it still sets my teeth on edge.
I guess there are two schools of thought about this. One is that, as a writer, you want to reach the audience you have, so if it takes eating clean and bee-yotch to do it, no one really cares. The other is that a period piece is a period piece, and people need to speak in the language of the time you're portraying. (Except in strange in-between spaces that are almost a form of magical realism; I tried to watch the Emily Dickinson thing, also on Apple+, and the language was so jarring I just couldn't, as the kids say. I couldn't handle Emily telling her pals, "You're so extra.")
But it bugs me. "Mad Men" was famously loyal to all that stuff. There was some hoo-ha early on where Don was wearing a watch in 1960 that didn't hit the market until 1961, and I recall Laura Lippman saying something about a character noting a driving time between Manhattan and Rehoboth Beach that was insanely incorrect, but I only noticed a few linguistic anachronisms that took me out of the action, and now I can't even remember them.
One final note about "Physical" – the husband character loses his job at the crappy college and dispiritedly tells his wife the only school that seems to be interested in him is Denison. "In Ohio?" the wife says, with the same misery in her voice. OK, sure, there's snow, but given that he's a student-fucking sleaze bag, ending up at Denison would be like driving your car off the road and landing in the master suite at the Ritz-Carlton.
Pretty dumb show, yes.
Speaking of Laura Lippman, I have her new book and would rather be reading it than doing this. So I leave you with just this, an advance look at yet another Trump book, this one about the pandemic:
In the early days of the coronavirus pandemic, as White House officials debated whether to bring infected Americans home for care, President Donald Trump suggested his own plan for where to send them, eager to suppress the numbers on U.S. soil.

"Don't we have an island that we own?" the president reportedly asked those assembled in the Situation Room in February 2020, before the U.S. outbreak would explode. "What about Guantánamo?"

"We import goods," Trump specified, lecturing his staff. "We are not going to import a virus."
Kiiiiinda wish we'd known this earlier, but OK, whatever. Guantanamo. I ask you.
OK, one more. Tonight's dinner, an asparagus/ham/shallot/mushroom souffle, and the best one yet: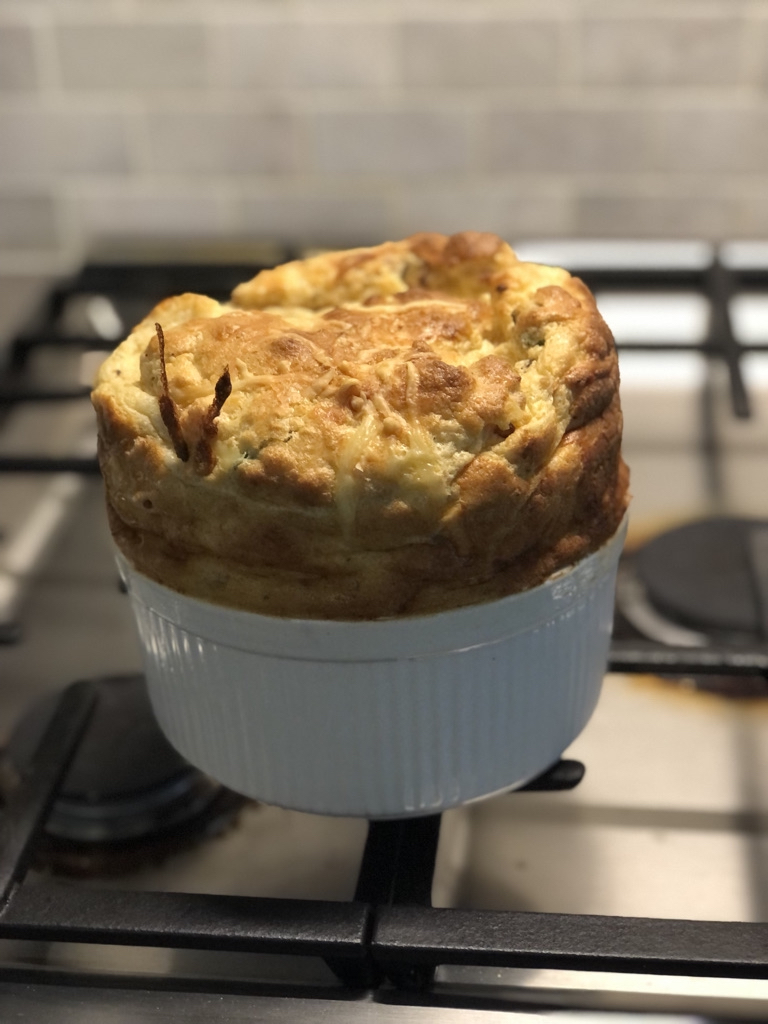 It was delicious.