Everybody wanted to have their picture taken with the rats. I mean, who wouldn't?
It was a cold morning, and I walked around a bit before noon. The debate was going on inside, the Capitol doors were locked, but the mood was pretty upbeat outdoors. Everyone had to know this was a done deal, but they were going to make a fuss just the same. Some people drove a long way: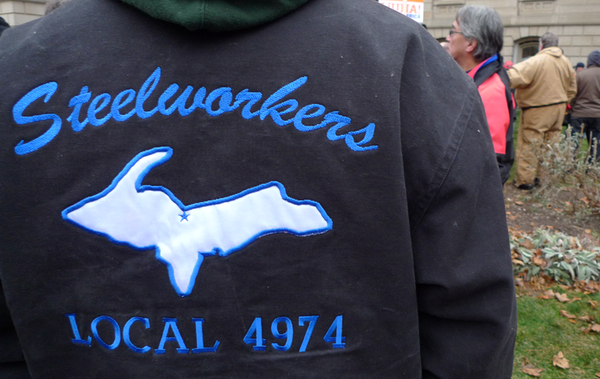 I love those jackets. Maybe I should join the Steelworkers apprentice program. And now I wouldn't have to pay dues.
Even the horses wore riot gear:
But there was no riot. The Americans for Prosperity got their tent pulled down, which I suspect is exactly what they wanted. And this happened:
I'd like to know what went on between the edits. Seriously, when I was there, it was a high-spirited, but not mean-spirited, crowd.
One of the big rats was moved to the top of the east-side steps.
But in the end, this was a total rout for the GOP. This Jonathan Chait piece gets to the heart of it, as does this Yglesias piece. And a few zillion more that you can easily find with a little Googling. In the meantime, I recommend this Gene Weingarten Sunday story on the ongoing — yes, still — case of Dr. Jeffrey MacDonald, he of "Fatal Vision," "The Journalist and the Murderer" and many other articles and tomes. It's a good read, pegged to the entrance of none other than Errol Morris on the scene, but the chat he did about it yesterday is better:
I remember the killings. I was an 18-year-old hippie at the time, roughly the same age as Helena Stoeckley. I didn't do as many drugs as she did, but I did plenty, including mescaline, LSD, and heroin. When I read in the newspaper that Jeffrey MacDonald – still presumed an innocent victim – told police that his attackers had been vicious hippie intruders who chanted "acid is groovy – kill the pigs," I knew he had done it. As did every hippie in every city who read that statement with any degree of analytical thought. No self-respecting killer hippie would ever have uttered, let alone chanted, that uncool, anachronistic thing as late as 1970. That was exactly what some ramrod-straight 26-year-old Ivy League frat-boy doctor who was contemptuous of the counterculture would have thought a hippie would say.
I was only 12, not a hippie (although an aspiring one), still innocent of the drug culture, but I recall having almost the exact same thought. An early sign of my ear for dialogue, I hope.
Yeesh, this was a long, tiring day, and all I want to do now is rinse it off, maybe with a glass of wine. I leave you with this:
One step forward into the new day, eh?
Edit: I hear the complaints about the comments of late. Considering responses. Please stand by.